American Machining & Manufacturing Co. Inc.

There are countless things we are able to do here at American Machining. From decorative yard products, signs, oyster steamers, grills, playground equipment,anti theft a/c covers, to industrial dryer boxes and shoots. We can even restore old bicycles. No matter what the job is we can do it!!

Whether it's back yard fun or serious industrial needs: Fire pots, Handrails, Transitions, Auger repair, Machine guards, Sign post , Drivers or you may just need metal Sheared, Formed, or Rolled let us help you.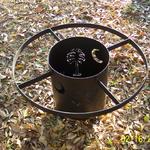 New pins and weldments made and installed. Cracks in the boom bucket or cutter heads repaired, cylinder repacked and repaired.

Complete hydraulic cylinder service: Repacked, Repaired, or Replaced. Seals, barrels, Rods, or Pistons made, Motor valves and pumps repaired per your needs.